Welcome to the Fractional Life March 2011 newsletter
Welcome to the March Fractional Life newsletter. Spring is in the air here in London and as people's thoughts turn to escaping to their favourite holiday destinations, the attraction of fractional holiday home ownership becomes ever more apparent. Read on to find out how to get the lowdown on the best fractional resorts, and for details of some great competitions.

Win a fantastic driving day and claim your free tickets for a Place in the Sun Live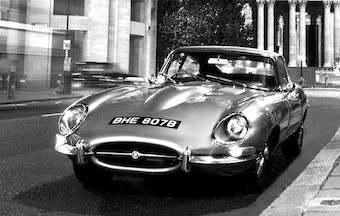 Fractional Life has teamed up with the Classic Car Club to offer visitors to our stand at the A Place in The Sun Live exhibition the chance to win a drivng day in a beautiful Jaguar E-Type. A Place in the Sun Live features thousands of overseas properties from hundreds of exhibitors covering more than 40 countries worldwide, offering homes frm less than £20,000 to more than £1 million. It is being held at London's Earl's Court from March 11th to 13th 2011.

Fractional Life is offering readers free tickets to the event. So if you want to come along and see if fractional ownership is right for you, click here to register for your free tickets. Visit us on stand A31 where we will be on hand to answer consumers' questions about the smarter way to own, pointing visitors in the right direction for information on fractional real estate, private residence clubs, destination clubs and much more. Plus you can see the E-Type, which will be on the stand for the duration of the show and enter the draw for what will be an unforgettable driving experience.

The finest fractionals scoop prizes at the Fractional Life Awards 2011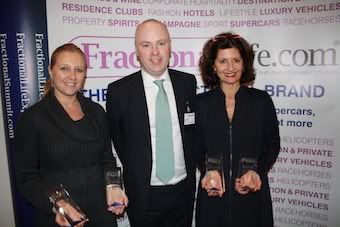 It was a good day for Italy and a great day for Timbers Resorts as the 2011 Fractional Life Awards were presented on the final day of London's annual Fractional Summit conference. Castello di Casole in Tuscany – a Timbers Resorts development won both the Best Fractional Development EMEA category and the Readers' Choice Award. The latter is voted for by readers of FractionalLife.com, and Castello di Casole secured an impressive 36 per cent of the vote, beating the other shortlisted schemes – Firstlight The K Club in Ireland, Four Seasons Residence Club Vail and Auberge Residences at Esperanza in Cabo San Lucas, Mexico. Fulvio di Rosa, the man behind the renovated 14th century hamlet Borgo di Vagli, won the Services to the Industry Award. Di Rosa is renowned for his passion for authentic architecture as much as his belief in the fractional ownership concept.
Timbers Resorts also picked up prizes for its latest project, Residences at The Sebastian, which won the Best Private Residence Club category, and the company itself scooped the Innovation and Excellence Award. Other winners were The Hideaways Club (Best Destination Club) and Four Seasons Residence Club Vail (Best Fractional Development US, Canada, Mexico, Caribbean).

Coming Soon! Live the luxury fractional life with our new competition page
Boy, have we got a treat in store for you! Fractional Life has teamed up with some of our most prestigious fractional partners, to give you a taste of the luxury fractional life. From stays at top holiday destinations, quality time at dream properties, experiencing a fractional boat club and getting behind the wheel of jawdropping classic and supercars, we've got a huge range of great competitions lined. Check out next month's newsletter for details of the first of these fabulous prizes.

Fractional ownership launched in Japanese ski resort

Fractional ownership real estate continues its relentless expansion around the world's most desirable property markets. Developer Hokkaido Tracks Resort Properties (HTRP) has launched fractional ownership sales in two-bedroom resort condominiums in the Japanese ski resort of Hirafu.
A first for the area, the shares are priced at ¥12,000,000 (£90,000) for a 1/4, with vendor finance packages available for qualified buyers. Located on the resort's ski shuttle bus route, the building is close to some of Hirafu village's best local restaurants and Yukoro hotspring.
The apartments are designed by architect Hikohito Konishi and feature a laundry and drying room, ground floor ski storage and parking. Apres-ski sushi anyone?

Fractional Trade

If you work in the fractional sector, have you thought about visiting the the video page on our b2b site for fractional real estate professionals, Fractional Trade? Why not take a look and join the site? All you have to do is take a few minutes to register and upload your profile, and you'll get access to a unique news and networking service.
You can also see videos, including our advertisers on the Fractional Life Youtube channel.
Fractional Life on Facebook
If you're a social media fan and user of Facebook, come and check out our new page , where we'll be posting all the latest developments from Fractional Life, and news about fractional ownership worldwide.
If you like what you see, click the 'Like' button!
Latest industry headlines
Get up to date with what's been happening in the fractional ownership sector with Fractional Life news. And don't
forget to follow us on Twitter: @Fractionallife
Liverpool legend visits Thai fractional resort
NetJets places huge aircraft order with Bombardier
The Registry Collection adds its first English resort
Try-before-you-buy art start-up launced in New York
CitationAir forms alliance with with motor club to offer buyers driving days
Continue here for more news and check out Fractional Life Press for our latest media coverage